The University of Kansas has a highly-respected academic reputation and offers a variety of degree programs which provide challenging musical experiences for our students. The Department of Music and Dance is one of the outstanding music departments in the midwest. The saxophone studio consists of 22-25 saxophonists, who are working on degrees in music education, music therapy, music performance, and a few are non-majors with strong musical backgrounds. We also have four saxophone quartets that perform on and off campus. The KU Saxophone Quartet I has been the winner of the Classical Chamber Music Division of the Down Beat Magazine Student Music Awards three times, the most recent in 2003.
Among the performing ensembles available to saxophonists at the University of Kansas are Marching Band, Wind Ensemble, Symphonic Band, Concert Band, University Band, three Jazz Ensembles, six Jazz Combos and Basketball Pep Bands. The Wind Ensemble and Jazz Ensemble I have recently performed at state and national conventions.
As you can tell there are many opportunities to perform in addition to the solo work you will be working on in your lessons. The most difficult choice for you will be to limit the number of ensembles you are in, so you can progress on the academic side of your degree! I am interested in attracting the best possible players to the saxophone studio. Even though the music scholarship money is highly competitive, KU is a real educational value.
If you have further questions about music scholarships or degree programs in the Department of Music and Dance please contact David Bushouse at 785/864-3436.
---
KU Saxophone Quartet wins fourth Down Beat award (2004)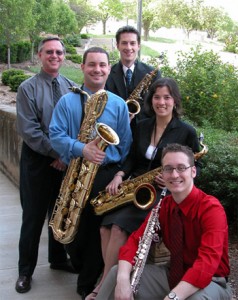 For the fourth year, KU's top Saxophone Quartet has won the Down Beat award for the "Best Classical Chamber Music Group".
(Pictured at left ) The KU Saxophone Quartet I, winner of the 27th Annual DownBeat Student Music Awards, as the Best Classical Chamber Music Group throughout the United States and Canada. Those pictured, from left to right, are: Vince Gnojek, director; Dustin Bauerle, baritone saxophone; Danny Loental, alto saxophone; Elaine Fukunaga, tenor saxophone; and Kevin Gosa, soprano saxophone.